This post describes, our recovery from the loss of our loved ones to a degenerative neurological condition called Huntington's Disease. If you wish to read the story from the beginning, you can start here: How We Got Here…
My husband was 14 years into his HD journey when I began to see the need for nursing care than I could not provide. I was working full time, and our teenage son was in high school. Every morning before leaving for work, I would prepare breakfast for my husband, Don, as well as a lunch that he could easily heat in the microwave or that was ready-to-eat cold. Don had been having occasional seizures, but they were suddenly increasing in frequency and becoming more severe. He dropped medicines, and spills or broken dishes were common. Falls were a part of everyday life. From the moment I got home from work until bedtime, I was cleaning, repairing, and preparing for the next day. My sleep at night was a very few hours of tossing and turning.
Finally, I knew it was time.
An opening in a wonderful nursing home became available close to my work location. The Director was a precious lady who helped make the transition much easier for us all. It is so important to develop a relationship with the front office when possible. You will need them, trust me! Don adjusted very well and especially loved Saturday and Sunday because I took him home on weekends.
Although going to visit every evening after work and taking him home on weekends was an improvement, it still wore me down and still led to exhaustion. Then about four months into his stay at this nursing home, I learned they would be closing it down in a month. I had to find another nursing home fast, and quickly located another one close by our home. From the very beginning, it was obvious it was not as caring a place as the first one.
At first I was encouraged to hear they had two other HD patients in this home, but soon realized they were banished with Don down what I came to call "the hallway to nowhere." The staff's attitude seemed to be out of sight, out of mind. The call lights were just a waste of electricity. Most of the patients on this hall were non-verbal and non-ambulatory, and as far as the staff were concerned, they were just occupying space.
During my husband's two years at this home, he suffered two concussions and one broken wrist from falls, and many seizures due to medicine not being given on time or at all. Every evening I swept the floor in his room and every evening I swept up prescription medications that my husband had been prescribed but which were dropped by the nurse and forgotten.
Don had a little elderly friend who had moved to this home from the same nursing home we had first been in. They both had rooms on the same hall. Every morning the nurse's aide would bring their wheelchairs out to the lobby area in front of the nursing desk. They would sit there all morning until it was time for lunch. One morning, as Don was sitting by his little friend, he noticed the man slump over to one side. Nursing staff and aides passed by their wheelchairs and no one stopped to check on him. Don said he was leaned over so far that he was afraid the little guy would fall out of the wheelchair. When lunchtime arrived several hours later, a nurse found that the little man had died.
I knew the man's wife and felt so sad and angry that he had died essentially alone, no one noticing that he was even gone.
❦ ❦ ❦ ❦ ❦ ❦
As caregivers, we all have some common goals. We desire to see our loved one in a safe, comfortable environment where their needs are met with respect and dignity. We want our loved one to get the best possible care. And we want to see them happy and thriving.
These goals can be met in several possible ways but it takes a lot of preparation, prayer, and investigation to assess your loved one's needs and find the best solution. This care can sometimes be provided at home or in the home of another relative. When this solution is practical, it is often less traumatic to everyone because the patient can continue to live in familiar surroundings, and family is there to do the caregiving. However, everyone needs to realize this commitment can be challenging physically, mentally, and emotionally.
Moreover, one person should not be expected to be on duty 24/7. From the beginning, there needs to be a schedule for respite for the main caregiver that allows other family members or friends to step in and provide the needed care.
In many situations though, especially with degenerative neurological conditions, the solution demands the involvement of professionals. Seemingly overnight, symptoms can escalate to requiring care in a nursing home. There our loved one can have the skilled care they need and deserve. It is OK to realize that the best care is not always at home.
How do we make these decisions? What are the signs that let us know a decision needs to be made? After all, you would think that a family would give the very best care since we love the patient most. But this situation isn't just about love. It's about satisfying a complex and ever-growing set of needs that sometimes require very specific sets of skills and knowledge.
When you decide that it is time for a nursing home, there is one more very hard question that you need to answer: How will you react if you find your loved one has been mistreated?
Probably the most important thing to remember when getting nursing care to come into your home, or placing your loved one in a nursing home, is the fact that your responsibility never ends. Your loved one still needs an advocate to speak up loud and clear when basic needs are not being met. In every care facility, there are wonderful nurses with hearts of gold. Unfortunately, there are also some lazy staff members who just do not care. But you do not have to settle for neglect – and should not under any circumstance!
Make sure your loved one doesn't feel deserted. Visit as often as possible and drop in for visits at various times of the day so you can observe the staff and their interactions across all shifts. And if the circumstances require it, don't be afraid to let your inner "Mama (or Daddy) Bear" come out.
Bring pictures so they can recognize items from home. Decorate so they can feel some good memories of childhood or of their children growing up. Make the room as cozy and home-like as possible.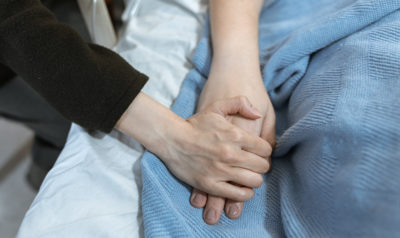 One other small, but very important, thing you can remember to do for your loved one is giving them a loving touch and hug. The small act of putting hand lotion on their hands and arms is so soothing. If it makes our hands feel better to have nice lotion, imagine how relaxing that feels to them! If a child is there, let them help with this. Make some memories! I promise you won't be sorry. I love this Bible verse from Jude 1:22, "…And of some have compassion, making a difference."
Next week we will look further into how to be the best advocate for your loved one. We will discover ways to check on nursing homes or home health care companies to reveal those who have poor grades in your particular locale. Let's be caregivers who show compassion – and make a difference!
In Christ, Amen ☩
❦ ❦ ❦ ❦ ❦ ❦
A prayer for when you are faced with making a hard decision…
"Blessed are You, Lord God, King of the Universe. It is right that I should at all times and in all circumstances bless You for being our Heavenly Father. But today I want to bless You especially for leading and guiding me when I come to You asking for Your help in making decisions. You are never too busy to hear my prayers and always listen when my heart is aching. Thank You for the peace and comfort You give me when You work in my life. Help me to let You always lead so those who You place in my care receive the compassion and service that they need. Amen."