This post describes, in part, the effects of a degenerative neurological condition called Huntington's Disease. Any negative behavior on the part of my wife should be attributed to that condition. Any negative behavior on the part of myself should be attributed to my need for God's ongoing grace.
If you would like to read our story from the beginning, you can start here: How We Got Here…
This week Janet has been going through fewer diapers – which is not a good thing. It means that her kidneys are beginning to shut down. She is also much more confused and is getting more and more agitated when not medicated. Much of her talking right now is just random phrases addressed to no one in particular.
She also is jumping between topics and everything is jumbled and out of order – sort of like a library after being hit by a tornado. She just now started yelling, "Help!" She is worried that our son was in "the wrong uniform" and that it was "Too late! Too late!" – though I have no idea what is too late.
This sort of rambling talk is hard on Frannie because she was raised to pay attention and respond when someone speaks to her or asks a question. But now the majority of her Mom's words are incoherent or totally without context. Dealing with this new reality, in turn, has resulted in Frannie really getting it for the first time that in 35 years or so, that could be her (or her older brother) lying in the bed. Though neither have been tested, the possibility is certainly there for one or both.
Here's praying for a cure.
Another problem is temperature regulation. She will say that she is freezing and (literally) 30 seconds later complain about being overheated. It could be that her thermal regulation is shot, or it could be that there is something else wrong that she doesn't know how to express.
I also found the last remaining copy of the wedding invites that we mailed out 34 years ago.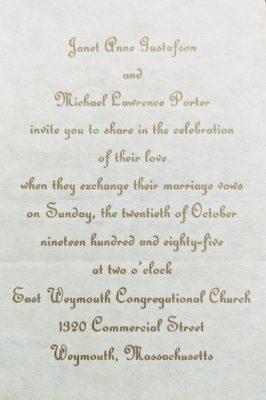 As I sit here writing this, there are only 10 days before our anniversary. I also looked it up online and discovered that the church is still there.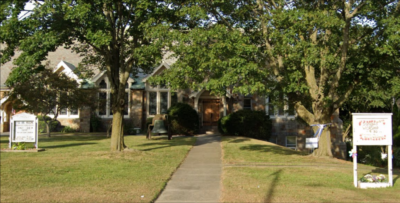 ❦ ❦ ❦ ❦ ❦ ❦
The title this week is drawn from the first song of the 1960 off-Broadway musical The Fantasticks – which ran an astounding 42 years, closing in 2002. With words written by Tom Jones, the song evokes a sense of nostalgia for an earlier, more innocent time when the singer was a "callow fellow."
However, the kind of remembering that the song calls for is more than just an encyclopedic recall of sterile facts and figures. It also includes images that invoke the feel of a time and place, like an impressionist painting by Claude Monet or really good photography like the work of Ansel Adams.
When your loved one is suffering from dementia, this unremembered memory can become critical because often the first thing lost is the "encyclopedia." A situation that we can easily interpret like: "They no longer recognize me, so they are gone." But even when the individual data points like addresses or names are gone, much of what truly constitutes "them" lives on.
Consequently, there remains much that we can learn from them – perhaps things that the "encyclopedia" hid. As an example of what I mean, consider the case of my own father.
To understand what happened to dad, you need to understand that my Grandfather Porter ran out on the family shortly after my dad was born, and that his mother (a first-generation, red-headed Irish Catholic lady with, we hear, a rather fiery temper) died of tuberculosis when he was five. At that time in rural Missouri, there was no formal adoption process and, for reasons that have never been adequately explained, my Grandmother Porter's family (the Fosters) could have taken in my dad and his sister, but never did.
As a result, my dad was raised by a succession of local families until he ended up with a widow named Becky Moore, who was in her 80s when she took him in at the age of nine. She was clearly far too old to be trying to deal with a half-wild boy (my dad's description of himself) and the measures she took to try and control him were often physically abusive – like smashing his knuckles with a chunk of stove wood.
Dad lived in her house (a tar-paper shack, really) until he was 16. When an Army recruiter came through town, Dad saw that visit as an opportunity to get out of a very bad situation by joining the Army. However, when the recruiter found out Dad was only 16, he wouldn't let him enlist because he was too young. Dad made it a couple more weeks, but then something happened that truly put him in fear for his life so he lit out again, tracked down the recruiter in a nearby town, and pleaded his case for getting into the Army. Dad said it was very clear that the recruiter remembered him, because when Dad finished with his story, the recruiter looked at him and said, "Well I think we can get you into the Army. Just one question: how old are you today?"
When Dad said he was 18, the recruiter told him, "Well, it looks like you're in the Army – raise your right hand." And for the first time, Dad took the service oath, right there in the recruiter's office. Was what the recruiter did illegal? Yeah, probably. But the recruiter knew that area of Missouri and knew that being in the Army wouldn't hurt him – and might actually do him some good.
Dad would eventually retire 23 years later in 1954, a few months after I was born. Dad used to say that in a real sense, the US Army was his real mother and father, because it was the Army that taught him,
"…how to blow my nose, and keep my backside clean."
So from Dad's initial enlistment, let's fast forward 70 years. My dad is now 86 and dying. As a retiree, he's being treated in an Army hospital in Arizona, but his mind is muddled and worried. He doesn't know where he is and doesn't even recognize my mom. To him, she's just a nice nurse that is always there whenever he wakes up.
Then one day, they had the door to his room open, and as he was lying in bed, he saw a soldier in fatigues walk by. That sight woke up some part of him that lay beyond the encyclopedic part of memory. It wasn't something he remembered like the current day of the week or his phone number, but was simply a part of who he was.
He realized that he was in an Army hospital and he knew what had to be done. He grabbed my mom's arm and told her that she had to find out from the orderlies what unit he was in and then contact his commanding officer so his CO would know that he was in the hospital and not AWOL.
What woke up was his sense of loyalty, honor, and duty to his "mother" and "father." From that day on, Mom said he was never again worried or confused because he knew where he was – with his brothers.
I believe that in some way everyone is like that. We go through life with things so deep inside us that we don't consciously realize they are even there – let alone where they come from. That's why, whenever I'm interacting with Janet, I try to think about what her "random" words are pointing at.
In Christ, Amen ☩
❦ ❦ ❦ ❦ ❦ ❦
A prayer for when you're trying to solve a puzzle…
"Blessed are You, Lord God, King of the Universe. It is right that I should at all times and in all circumstances bless You for knowing all things. But today I want to bless you especially for opening my eyes when I cannot see, and making visible that which is hidden. Help me to understand the hidden needs and expressions of others. Amen."