This post describes, in part, the effects of a degenerative neurological condition called Huntington's Disease. Any negative behavior on the part of my wife should be attributed to that condition. Any negative behavior on the part of myself should be attributed to my need for God's ongoing grace.
If you would like to read our story from the beginning, you can start here: How We Got Here…
Janet is continuing to eat less and less. This week on Facebook, a memory picture came up of Janet back when we could go out to eat. At the time of the picture, we had gone out to a Cajun restaurant here in Houston and she probably weighed 185 lbs., or thereabouts. Now she weighs 100 lbs., give or take a bit.
Lately I have been thinking about the past and our life together – a lot. For instance, I have been remembering when she was pregnant with our son (our first child) and we were trying to spruce up the house that we owned in Norwood, Massachusetts. It was during that effort that we learned the "joys" of such things as removing horsehair plaster and working with turn-of-the-century electrical systems.
It was also during that remodeling effort that Janet got it into her head that what the house really needed was a fresh coat of paint.
Now the thing to understand is that while the house itself was only two stories high, due to the way the land sloped and the way the basement was laid out, the second floor in front was actually nearly three stories off the ground.
So we bought the paint, a spray gun, a ladder and all the other miscellanea that one needs when one is going to paint a house. After we got all the stuff home, I discovered that Janet expected that SHE was going to paint the house. When I tried to point out (quite reasonably, I thought) that she was eight months pregnant and shouldn't be climbing up and down ladders, she pointed out that I needed to mind my own business. After all, she had painted a house before – even if that house was a single-story bungalow.
In the end (I thought) we agreed that she was not to be climbing up and down ladders. Moreover we would get professional painters to handle the eaves of the second floor, which were a full three (scary) stories off the ground.
But 2 days later, I got home from work and there was my very pregnant wife painting the second story eaves. Never did figure out how she got the ladder up that far…
❦ ❦ ❦ ❦ ❦ ❦
A basic truism today is that much of society is consumed with the issue of identity. And like so many things, people today have paradoxically redefined the word. Rather than meaning who you are personally, it is seen as a way of indicating what group you belong to. Don't get me started on that degenerative practice!
But even when the word is used properly, it's crazy some of the ways in which people choose to identify themselves. For example, when growing up I had an aunt who took great pride in identifying herself as a [blank] of the Rockford Illinois, [blank]s. I guess we were supposed to be impressed.
Then in the 60s and 70s, identity became something for which you had to search – often in exotic locales. In fact, it became something of a cliché for someone to say they were taking a trip or undertaking some other kind of experience in order to "find themselves …" Over time, as the baby boomers grew older and became more settled, the story evolved into one of a successful, but unhappy, person abandoning their comfortable life and taking up a quest to figure out "…who they really are…"
A popular subgenre of this type of story concerns a successful professional person who thinks that they have life pretty much figured out, but for some contrived reason, moves from the city to the country (or vice versa) and there discovers "…who they really are…" – often in tandem with a new love interest. Here in the US, there is an entire TV network (called The Hallmark Channel) dedicated to broadcasting seasonally-inspired versions of this story 24/7.
While a key part of all such modern fairy tales is the idea of making a clean break and starting over, reality has an unpleasant way of intruding. Even if you aren't a successful professional, you can find yourself being forcibly evicted from your warm, safe, comfortable rut. When my wife first got sick, she did some counseling where she was advised to remember that, "You aren't your disease." And for a while, I guess that was true. But as time and the disease progressed, it became increasingly difficult to maintain that facade.
Moreover, it wasn't just Janet that was going through changes. I was desperately trying to figure out where our life was going. Consequently, there were two identities in a constant state of flux, but what are the odds of two erratic lives staying connected the way they had been before?
In my own experience, as well as those of others, it is not uncommon to hear someone invoke or describe an "Alice in Wonderland" feeling. For instance, at one point, as Alice wanders about trying to find her way, she encounters a hookah-smoking caterpillar.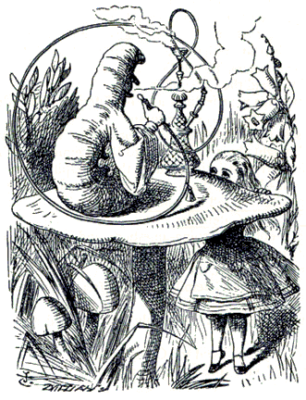 "Who are you?" said the Caterpillar.
This was not an encouraging opening for a conversation. Alice replied, rather shyly, "I – I hardly know, sir, just at present – at least I know who I was when I got up this morning, but I think I must have been changed several times since then."
"What do you mean by that?" said the Caterpillar sternly. "Explain yourself!"
"I can't explain myself, I'm afraid, sir," said Alice, "because I'm not myself, you see."
"I don't see," said the Caterpillar.
"I'm afraid I can't put it more clearly," Alice replied very politely, "for I can't understand it myself to begin with; and being so many different sizes in a day is very confusing."
Whether you are a patient or a caregiver, that is the haunting question – "Who are you?" – even as society imperiously demands that we explain ourselves. Moreover, we seem surrounded by things offering hope for our sad condition, each bearing helpful little tags reading, "Eat Me!" or "Drink Me!" Little wonder the 60's drug culture fell in love with the book.
One pill makes you bigger,
One pill makes you small,
And the ones that mother gives you,
Don't do anything at all.
Go ask Alice, when she's 10 feet tall…
Jefferson Airplane (White Rabbit 1967)
Like Alice (and perhaps Grace Slick), we sometimes feel so big that we are the unwelcomed center of attention, while at other times we feel small, insignificant and ignored. And yes, being so many different sizes in a day is very confusing.
The basic problem is that we always define our identity, who we are, relative to something or someone else. My aunt derived her identity relative to her ancestors and their perceived social standing. People who went out trying to find themselves were searching for an identity based on novel experiences that were bigger than the familiar world they grew up in. The folks in the Hallmark Channel movies are simply exchanging an identity based in one set of professional and personal relationships for one based in a different set of professional and personal relationships.
But those relationships are the identity's vulnerable spot. If something happens to the relationship, the identity or identities deriving from that relationship crumble. And what is there that isn't susceptible to loss and decay? Marriages end in divorce or death, siblings are lost, children grow and move away for lives of their own, careers end, pets die, and organizations come and go – or change beyond recognition.
As far as the eye can see, everything around you, animate or inanimate, has a life span, a service life, an expiration date, a timeout, a proper season, or a shelf life.
So I might say, "Ok, if that's the game – I choose not to play it!" Unfortunately that strategy doesn't work either. Even if I eschew all contact with the world and become a hermit, I am still defining myself in relation to the world – in this case a world in which I don't wish to participate. But that identity is as vulnerable as any other. Remember the classic children's story Heidi? All it took was for a little girl to wander in and demonstrate that the world is not so terribly horrible and the grandfather's identity as a curmudgeon is blown sky high.
So to recap, nothing around us is permanent and we can't even "opt out" of the predicament. So is there no hope? Are we doomed to an endless cycle of traumatic relationship collapses and identity rebuilding exercises? No, there is good news to be had. The simple (though far from easy) solution is to base our identity on a relationship that is unshakable and indestructible to the point that it can survive anything – even death.
"But," you might object, "didn't you just say that everything around us is impermanent?"
Actually, what I said was, "As far as the eye can see…" Maybe we need to try looking where the eye can't see.
"Sounds like we are back in 'Wonderland.'"
Hardly. If you think back, last week we talked about the different reasons that people might have for running a race. One person ran as an expression of who he was as a human being. However that statement means more than simply identifying with a particular skill, which can obviously fade over time. For this runner, it meant that he ran because the skill was a gift that God had given him. Hence, he focused on God and giving Him pleasure by using that gift to the fullest extent possible. So while one gift might fade over time and be replaced with another, the runner's identity remained untroubled and at peace because it was based on the identity of the Giver, the One who is never ending, and Who is constant.
There is our way forward: An identity that is based on God and His intent in creating us. As I have said many times in the past, whether you are the patient or caregiver, what you are experiencing is not random. There is a point to it all, and that point is to transform you into the being you were created to be.
By the way, as Moses (משה רבנו) discovered at the burning bush, God has a really good answer to the question "Who are you?" He simply said, "I am. I am the One who is."
In Christ, Amen ☩
❦ ❦ ❦ ❦ ❦ ❦
A prayer for when you aren't sure who you are…
"Blessed are You, Lord God, King of the Universe. It is right that I should at all times and in all circumstances bless You for who You are. But today I want to bless You especially for also being the basis for the ultimate reality of who I am. Help me to discern the difference between who I am and the temporary labels that I get from the world. Amen."